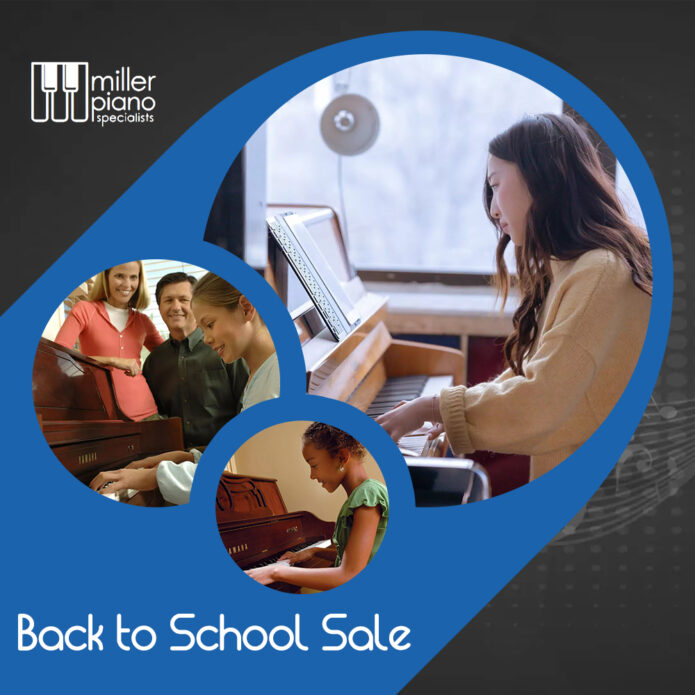 "Top Brands are heavily discounted for this limited time Back to School Sale! Shop early for the best selection! Supplies limited so call or text us at 615-771-0020 at Miller Piano Specialists for more information, in stock items and appointments!"
Used Piano Clearance
Used Grand Pianos from $4999
Used Vertical Pianos from $999
Used Digital Pianos from $499
All used pianos on sale – Brands include Steinway & Sons, Yamaha, Baldwin, Roland, Kimball, Kawaii, Wurlitzer, Samick and more
Overstock Liquidation
Items ordered up to two years ago just arrived.
Featured Brands – Yamaha, Pearl River, Ritmüller
Scratch and Dent
Small mishaps = Big Discounts – Some repairs completed. Some Not completed. Better for us to sell at a discount and refer you to the repair technician.
Open Box
On occasion, the wrong item is opened for delivery. VERY limited stock, but these are instruments that the box has been opened, even though  the piano may never have been removed.
Floor Samples
It's time to refresh our store inventory and sell of our floor stock
Summer is when we refresh the  instruments in our Music Academy
Sale ends soon! Beat the rush!
If you are looking to buy a piano, be sure to check out our Comprehensive Guide to Buying the Perfect New or Used Piano in Nashville! Also, give us a call today at (615) 771-0020, chat with us by clicking on the chat icon below, or fill out a form by clicking on one of the form buttons in the sidebar.
Check Out The Latest of our Used Piano Inventory Below!
The Story of Cora – A Used Piano Who Gets a Second Chance
Once upon a time, in a quaint little town, there lived a piano named Cora. She had been a witness to the changing times, having been built in the vibrant piano era of the 1980s. Cora's polished...
See More From The Used Pianos Category