When it comes to finding high-quality new and used pianos in Nashville, Tennessee, there's more to the story than meets the eye. As the home of Music City, it's no surprise that Nashville is packed with talented musicians and vibrant music scenes. Among the city's treasures is a thriving market for both new and used pianos, making it the perfect place for buyers to find the instrument of their dreams. In this comprehensive guide, we'll explore everything you need to know about buying the perfect new or used piano in Nashville, as well as share insider tips and advice to make your piano shopping experience a breeze.
Part 1: The Importance of Local Expertise for Nashville Families and Musicians
Local expertise matters when it comes to finding the perfect piano in Nashville, as it ensures personalized service, tailored advice, and deep insights into the unique needs of local musicians and families. Miller Piano Specialists brings that much-needed expertise to the table, with over 150 years of combined experience in the music business.
As a family-owned business, Ross and Sylvia Miller lead a team (Sherry Carlisle Smith, Dave Martin, and Dakota Smith) with an unwavering passion for music and a deep understanding of Nashville's vibrant music community. This passion and knowledge work together to provide personalized and professional assistance, ensuring every customer finds the ideal instrument for their specific circumstances.
Miller Piano Specialists not only offers an extensive selection of pianos, including new Yamaha and Pearl River pianos, but also has a remarkable variety of pre-owned pianos. We strive to cater to various budgets, preferences, and skill levels, so that aspiring musicians and seasoned professionals alike can find the perfect match.
Moreover, our team understands the importance of maintenance and tuning for the longevity and optimal performance of your piano. This is why Miller Piano Specialists provides valuable advice on finding specialized services and reliable piano technicians within the Nashville area.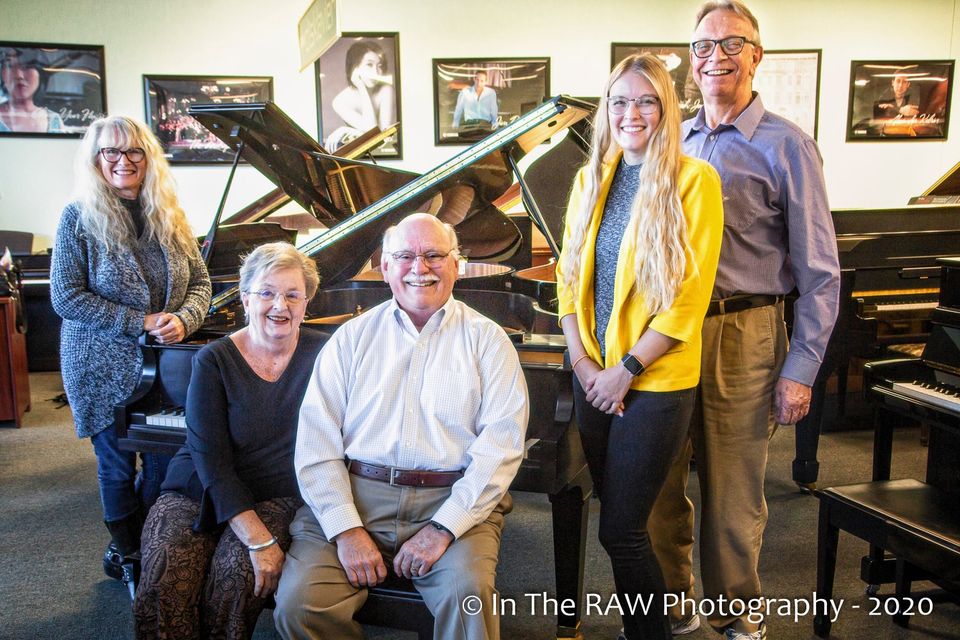 Part 2: The Benefits of Buying a New or Used Piano in Nashville
Investing in a piano is a meaningful decision, and understanding the advantages of both new and used pianos will help you make the best choice that suits your needs and budget. Miller Piano Specialists in Nashville caters to the diverse preferences and budgetary requirements of customers by offering a wide range of new and pre-owned pianos.
New Pianos:
Impeccable Quality: When purchasing a new piano, you can be confident that it's in pristine condition with no wear or tear. A new piano offers unparalleled sound quality, flawless mechanics, and a beautiful exterior finish.
Manufacturer's Warranty: New pianos usually come with a manufacturer's warranty to provide reassurance and protection for your investment in the event of any defects or issues.
Latest Technology: With advancements in piano design and manufacturing, new pianos offer innovative features and cutting-edge technology, which can improve your playing experience and cater to your individual requirements.
Proper Piano Preparation: It's essential to never have a piano delivered in the box. A new piano should be properly broken in and prepped prior to delivery. This process involves stretching the strings, optimizing the hammers for play, and allowing the piano to adjust to the local climate. Pianos often sit on ocean liners or in warehouses for extended periods before reaching their local destination, which can cause parts of the action to shift, affecting performance. Proper piano preparation ensures these nuances are corrected, and your instrument performs optimally. At Miller Piano Specialists, we take pride in providing full preparation for all our pianos before they are delivered, ensuring your satisfaction and enjoyment for years to come.
Used Pianos:
Significant Savings: Purchasing a used piano allows you to benefit from considerable cost savings compared to buying a brand new instrument, making it an appealing option for budget-conscious buyers.
Unique Finds: Pre-owned pianos may have historical significance or unique aesthetic features that make them a one-of-a-kind addition to your home or music studio.
Value Retention: A well-maintained, high-quality used piano is likely to retain its value over time, making it a wise investment for those looking to upgrade in the future.
Digital Pianos – A Good Used Piano Alternative:
While exploring the options for used pianos in Nashville, it's important to consider good digital piano alternatives like Yamaha Clavinova, Yamaha Arius, or other reputable brands. A high-quality digital piano is often a better value and a more practical choice than a poorly maintained acoustic piano, particularly for beginners. Here are some key advantages of digital pianos:
Modern Learning Options: Good digital pianos can connect with apps on your smartphone or tablet, providing contemporary learning tools and resources that cater to the needs of today's music students.
Varied Touch: Digital pianos come with diverse action mechanisms, ranging from spring/gravity-based to purely gravity-based (like a grand piano). This variety allows you to choose the touch that suits your preferences and helps develop your skills.
Easy Mobility: Digital pianos are lighter and easier to move compared to their acoustic counterparts, making them a more convenient choice for players who may need to transport their instrument frequently or have limited space.
Lower Maintenance Costs: Unlike acoustic pianos that need regular tuning, digital pianos never require tuning, offering considerable savings in the long run. Additionally, digital pianos have minimal maintenance requirements, making them a cost-effective choice for many players.
Miller Piano Specialists can help guide you through our extensive range of digital piano alternatives and provide expert advice, ensuring you find the perfect piano that meets your unique needs and budget.
100% Lifetime Trade Up Credit at Miller Piano Specialists:
When choosing a new or used piano from Miller Piano Specialists in Nashville, keep in mind our exceptional trade-up policy. If you ever decide to upgrade your acoustic piano to a superior instrument—whether transitioning from a vertical to a grand or from an entry-level/student model to an artist-grade piano—our policy guarantees 100% of the original purchase price you paid us, at any time during your ownership, to be applied towards the cost of the upgraded model you select.
Part 3: Essential Tips for Inspecting and Selecting Your Ideal Piano in Nashville
Choosing the perfect piano requires a thorough evaluation of multiple factors, keeping in mind your playing style, preferences, and budget. Here are essential tips to help you make an informed decision when selecting your ideal piano in Nashville:
Determine Your Requirements: Before embarking on your piano search, consider your skill level and playing style. Understanding your specific needs will save time and make it easier to focus on pianos that match your criteria.
Research Brands and Models: Get acquainted with different piano brands, their reputation, and the various models they offer. This will help you differentiate between high-quality, dependable brands and others that may not meet your expectations.
Prioritize Sound Quality: Pay close attention to the tone and resonance of the piano. Ensure it produces a consistent, pleasing sound across its entire range. The ideal piano should offer warm, rich tones that resonate with clarity.
Inspect the Piano's Physical Condition: Visually assess the piano's exterior and interior. For the exterior, check for any signs of damage or wear on the finish, keys, and pedals. When examining the interior, inspect the soundboard, strings, hammers, dampers, and bridges for any visible signs of deterioration or damage. Additionally, be sure to look for rust on any metal components, as this is a major red flag indicating that the instrument may be prone to future problems.
Test the Action and Responsiveness: Play several notes and chords across the keyboard to evaluate the piano's action and responsiveness. The keys should feel balanced, smooth, and easy to control, ensuring comfortable playing and precise expression.
Inquire About the Piano's History: If purchasing a used piano, ask the store or seller for information regarding the piano's age, previous owners, and maintenance history. This will help you gauge the instrument's overall condition and alert you to potential issues or repairs needed in the near future.
Consult a Piano Technician: If you're unsure about a piano's quality or condition, seek the opinion of a qualified piano technician who can provide a detailed assessment.
Conclusion
Look no further than Miller Piano Specialists for the expertise, inventory, and customer support you deserve during your search for buying the perfect new or used piano in Nashville. With expert guidance, exceptional inventory, and competitive pricing, Miller Piano Specialists makes it easy for aspiring and professional musicians in Nashville to acquire the piano of their dreams. Take a look at our new or used pianos online, and visit us today to make your musical journey in Music City flourish.