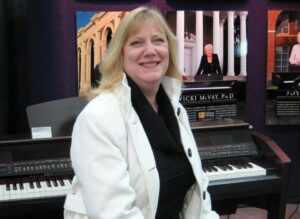 Don't miss another exciting "Live" facebook session with Yamaha's, Lori Frazier on Thursday, September 9th at 7:00 pm Central Time!
It is back to school and technology is playing a huge role in our lives daily. Music is no different! Be on top of the latest apps, learning adventures, and how to enjoy your digital pianos to the fullest! Lori will be coming to us live from Arizona, from her home, and presenting you with opportunities in music that will change your world! The event will be open for questions and answers on facebook, and you may call 615-771-0020 for more information before or after the event as well.
Here is a little more information about Lori Frazer…Bio – Lori Frazer
Yamaha Marketing Programs Specialist – Keyboard Division
From a young age, Lori has enjoyed sharing her love of the marvels of electronic keyboard instruments with everyone. With this passion, Lori has been able to build and oversee the ever- popular Yamaha Clavinova Festival (www.clavinovafestival.com) since her start with Yamaha in 1997. Starting her career as a piano teacher and performer, Lori saw firsthand how technology could assist teachers of all levels.
Over the course of her career, Lori has done teacher and consumer seminars in all 50 states, showing clients how to get the most from using technology. Lori has given many lectures at national conferences including The National Conference on Pedagogy, MTNA national conferences, as well as the American Music Therapy Association national and regional conferences.
Joining the Clavinova Connection team in 2004, Lori has enjoyed bringing the amazement and wellness benefits of music making to many people who never thought it was even possible to play an instrument. She received great satisfaction sharing this wonderful program throughout the United States, especially with the medical and health and wellness community. She is currently also a consultant to the Yamaha Institute of Music and Wellness (www.yamahainstitute.org)
Lori resides in the southwest with her husband Skip, and basset hound Beasley.