January 19, 2013, Miller Piano Specialist hosted their annual "fun recital". We were very excited about our participation, audience turn out, and our wonderful panel of judges for this event! There are very talented and creative young musicians in Tennessee and we are proud to host this event for a great day of fun! Our contestants this year ranged from Santa, to a Taylor Swift performer!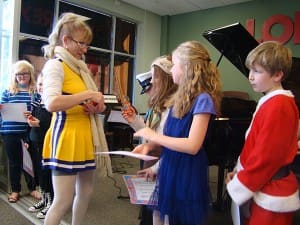 Our first place winner this year was Clarke, who won tickets to the Tennessee aquarium. Our second place winner, Camille, won laser tag games for her and her friends. Our third place winners were Rachel and Meagan who won gift certificates to Music and Arts. No one left empty handed, as all performers received trophies and certificates for entering.
A special thanks to our judges also. We were blessed to have Bruce Williams, from the famous comedy musical duo – Williams and Reed. Sharon Williams was also judging and she performed all over the world as the "living doll" mime. Our third judge was Eric Bikales who is a composer and arranger as well as musician for Neil Sedaka. Thanks to all, and we look forward to another great show next January!