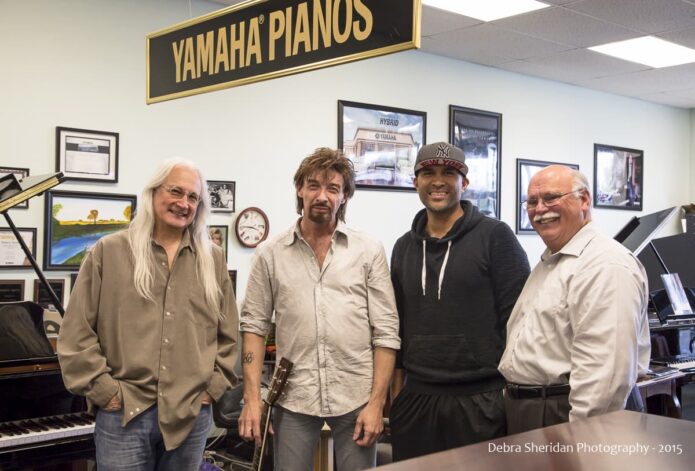 Today we were so happy to see some friends at Miller Piano Specialists! Eric Bikales, Clinton Gregory, and James Katina dropped by today. These artists are from three genres of music and it was exciting to have them here all at one time!
Eric Bikales is an American piano player. To attempt do describe everything else he is musically would be impossible. Drawing on his vast experience in every form and genre of music as a composer and performer, his experiences both "on the road" as a journeyman keyboardist and as a versatile composer for TV and film, he has crafted his first-ever collection of songs in his best style; just sitting at the piano and playing. Wherever these songs take you(and they will set your imagination in motion), there is always that "home-base" of Eric's likeable mid-western personality; his easy humor or questioning irony, along with the determination to push his own boundaries. He has also worked with Neal Sedaka for 30 plus years.
He was just 12 when he left Virginia for Nashville, where Willie Gregory was by then playing the Grand Ole Opry. Word raced around Music City about the young fiddle phenom, who soon was playing on records by country and Bluegrass stars such as Suzy Bogguss and the McCarters.
A cover of Gov. Jimmie Davis's "Nobody's Darlin' But Mine" became Clinton's first solo single. Gregory's single "Play, Ruby, Play," an unusual tempo number with a phase-shifted electric piano written by Tony Brown and Troy Seals, made the Billboard country Top 25 in the spring of 1992, a remarkable achievement for the indie label Step One Records with a limited promotion budget.
Clinton charted 11 Billboard country singles between 1991-95, earning huge praise from some country legends in the process. "Clinton Gregory is one of the greatest country singers on the planet," said Marty Stuart.
Over the last few years, The Katinas have built a dedicated following with their straight ahead pop/R&B sound. Fueled by chart toppers like "Draw Me Close," and "Thank You," these 5 brothers have carved a niche distinctly their own in the CCM community.
Never is that unique style and sound more accessible than on their new studio project, Roots. Roots borrows heavily from the studio polish of 1999's The Katinas and 2000's Destiny, as well as the worshipful energy of their most current project, Lifestyle.
Beyond that though, Roots finds the Samoan natives taking on new challenges and coming together like a cohesive musical force like never before. With an aggressive touring schedule and sure to be radio hits like "Changed," and "Freedom," Roots will dig deeper than The Katinas ever have before.
Picture by Debra Sheridan InTheRawPhotography.com