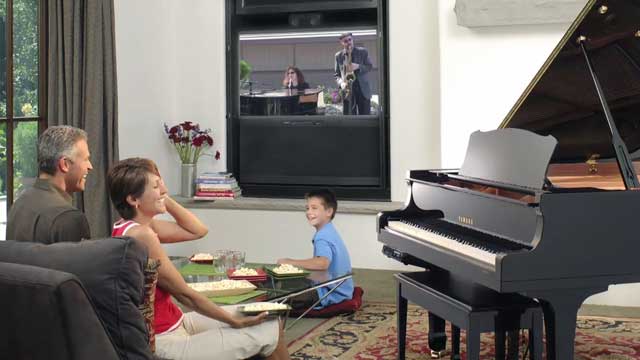 The Yamaha Disklavier is much more than a player piano. Yes, it is a home entertainment system for the entire family, but the Yamaha Disklavier will do so much more! It allows for musical education, recording, and a bountiful number of additional voices to utilize.
Yamaha, being the innovator of the latest technology, does give you the latest in Disklavier Satellite Radio/Television for your listening and viewing pleasure. The Satellite radio/television reminds us of the old player system grandma had, but gives us a clarity and capability of not only hearing but seeing our favorite artist in action at the time of their performance.
Education, being number one with Yamaha, has been incorporated into the Yamaha Disklavier. Your child can record their progress and practice with their piano for each piece they are learning. Yamaha has also been utilizing remote lessons with colleges and institutions for some time now. This will allow your child to continue their education via the latest in musical technology. Syncronized cd recording is also an option for the more advanced student or musician.
The Yamaha Disklavier E3 gives you 676 voices (or sounds) that can be recorded or accompany your piano as it is playing. These additional sounds include drum kits and general midi voices. You have total control over how much, if any, of these sounds you would like to hear.
So "yes"….I guess you could call it a player piano. But, grandma would tell you "the Yamaha Disklavier is much more" than you ever realized! We are also featuring these instruments in our temporary warehouse sale!