See and read comments from some of our recently satisfied customers as they talk about their piano shopping experience at Miller.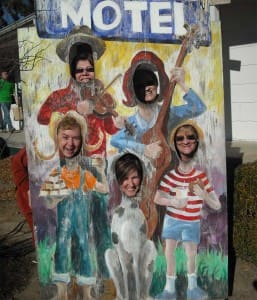 The selection committee from the New Harmony General Baptist Church in Lewisburg KY decided to select a Yamaha baby grand and a Clavinova for their church after visiting with Jack and Sylvia here at Miller Piano. After spending quite some time during the selection process and playing several instruments they were tired and hungry. They visited the Loveless Café for a very serious , high level meeting as shown in this picture. Is it okay to have fun while making important decisions???? must be…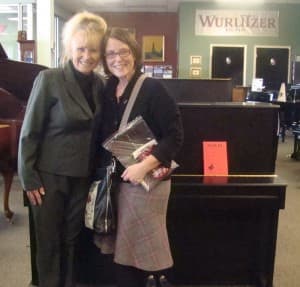 Thanks to Ruth!!! We are proud to have her as the newest edition to the Miller Family!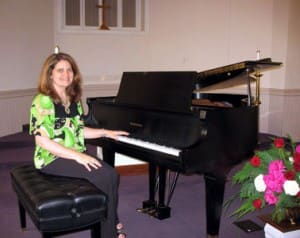 Vicki C. – "Very patient with my church committee"
I did comparative shopping including the Steinway store in Nashville. Steinway was very proud of their prices and was unwilling to discount their pianos at all. What I found at Miller was a company that would meet our financial budgeting needs and work with us. We bought a Baldwin R-1 at Miller. I checked pricing on line and found Miller to be very much in line. I could have gotten that piano maybe a little cheaper on line but by the time you add shipping and insurance, there would have been no savings. The Steinway people said their pianos were so good that they really didn't really need to give a lifetime warranty. Of course Steinway is a good piano, but Miller was willing to work with us so that we could get the piano we wanted and stay within our budget. And we got a lifetime warranty on the Baldwin. Randy, our salesperson, was very patient with us (dealing with a committee), and 5 months later, we bought the piano. Randy even came to our piano dedication in Tullahoma which was really neat of him to do.
_________________________________________________________________________________________
Dr. L. Brown – "Spent 6 hours on the Internet learning"
We called around and saw a lot of websites and more by the luck of the draw that we landed at Miller Piano than anything else. They were extremely helpful and patient with us as we came in at the end of the sale day. We looked at a variety of pianos, looked at pricing on the internet, and wound up buying a Baldwin M. It was right in line for pricing. It's hard to buy a piano on the internet because you certainly want to play it first. Between my husband and me, we spent 6 to 7 hours on the internet researching all kinds of pianos and pricing. We didn't know anything about Miller Piano, and we were pleased that it was locally owned and not a big chain. We had plenty of time to play any of the pianos we wanted. They had good knowledge about all of the pianos we played instead of some slick salesperson saying, "Well this is the most popular brand out there." It was a great experience for us at Miller.
_________________________________________________________________________________________
T. Cashion – "It has really enveloped my son."
We first started looking on the Internet for piano stores, and the internet took us to Miller. One of the reasons we went to Miller was it was easy to find. I'm a traditionalist and like the look of a piano, so when I first saw the digital piano, I wasn't sure I would like it. But I play as well, and it was really for my son. What surprised me were all the features and how it really enveloped my son. He loved figuring how to play it. With background music, he could play the right hand and record it, and then play with the left hand to what he just recorded. This feature in the Roland made it so much more beneficial for him, a really wonderful experience. He loves to record and do re-takes. I said I wouldn't buy one, but no dust settles on this piano. The argument in the morning with my son is, "No you must go to school; you can't play your piano right now." When he has trouble learning a piece, we have been able to go to Miller, and Gerald will play it for my son and record it so that he can follow the sheet music as my son plays more by ear than by reading. Gerald will record the song or just the intro for him so he can learn it. He loves to go see Gerald because Gerald will play it and record it for him.
_________________________________________________________________________________________
M. Buck – "My grand kids LOVE it!"
We bought a Roland. I have 2 daughters who live nearby, and 1 had bought from that store and had a good experience. I didn't know anything pianos and didn't even know what a digital pianos was! They were very patient with me. I knew that I wanted something for my grand kids, but I didn't know what I was looking for until they showed me everything in there. Then I said I really wanted a fun thing, so Gerald told me about the Roland Digital for karaoke and all kinds of sounds. My grand children have loved it. So every time they come over to the house, they now have something fun to do.  At some time I even want to learn how to play. Gerald was very knowledgeable and helpful and as soon as he figured out what I wanted, he showed me exactly what I was looking for. I would definitely refer anyone to them. He also helped me be able to go online to download karaoke piano music. I'm not very computer savvy, so I may ask Gerald to help me some more. They are good people.
_________________________________________________________________________________________
M. Falcone – "Didn't try to get me to trade for something I did not need."
I took piano lessons and stopped when I was age 10. A few months ago, I got the bug to start playing again, so I got one of those keyboards and began playing. About 4 months later, I realized that I really needed a piano if I wanted to really enjoy playing…a keyboard just didn't cut it. Then I heard that Miller Piano had bought out a store in Dublin, Ohio, and had repo inventory of Pearl River pianos. I took my fiancé with me and went first to Steinway to price-compare, and their prices were pretty expensive. The price I got at Miller was just too good to pass up. What was a $5,000 retail piano I was able to buy for $3,000. I still go in Miller from time to time because one day I will get a grand piano. They exceeded my expectations. And the proof of that is that I got the itch to upgrade my piano to the next level as I get ready for a grand one day. Miller has this 100% trade-up guarantee, so I thought 'why not.' While I was pressuring myself to upgrade, Randy and Gerald actually told me there's no need for me to upgrade at this time, that I should be satisfied with the great piano that I have, and I am satisfied. I just thought that was really admirable that they didn't try to take advantage of my emotional state to upgrade a piano that I had just recently bought.
_________________________________________________________________________________________
J. Sawyer – "Miller had a real good price, a lot less than Steinway"
Gerald was very knowledgeable, and that is what sealed the deal in addition to the price. I bought a Wurlitzer Digital Player Grand Piano. Gerald even stayed over an hour later so that I could get there to buy the piano before the sale ended that day. I had been shopping around on the Internet to check out pricing to see if what was being quoted me was a good price. I wouldn't buy off the Internet because who knows what condition you would get and what to do if you had a problem, but the Internet gave me good pricing information. I went to the Steinway store in town who said that his inventory was specially priced from a warehouse that was closing, but when I compared the prices and the features for what I wanted with what Miller had, they were a lot more expensive, so I bought at Miller. I didn't want to make a haphazard or bad decision on something like this, and Gerald was very pleasant to work with and helped me become assured all along the way. I bought the piano for my son and for me. Now we have the Baby Grand and two chairs in a room by itself, and that's all I need; I am good to go! Buying a digital was very important as my son plays by ear well. Gerald even suggested a piano teacher for me who teaches how to play by ear as well. I met both of the owners. Sylvia was very pleasant as was the gentleman, her husband. Great place to buy.
_________________________________________________________________________________________
L. Parks – "Bought it right on the spot, no need to go anywhere else"
Wound up there as they were closest to me. They have a couple of music stores in my area, but the pianos were not what I wanted. I went on the Internet, and that is how I found Miller. Randy waited on me and did a great job. He sold me the piano on the spot to me, and I am very happy with it. On the Internet, I put in Pianos for Sale Nashville TN area, or maybe it was Cool Springs, and  Miller came up as a choice to go to. I just didn't need to go anywhere else.
_________________________________________________________________________________________
R. Johnston – "They don't try to steer you to the most expensive; real quality family"
It was the only place I looked, so I can't help you out on comparisons. But the salesperson, Randy, was very helpful. They also had what I was looking for in color and size to match our cherry floor and furniture we have. We bought a Baldwin Acrosonic Upright. Primarily so pleased that the salesperson was a good piano player and helpful that we did not need to go anywhere else. I got a good price on it. That is normally not me; I shop aggressively before I make a major purchase, but again the staff was very courteous, and Miller had a good supply to choose from. They also don't steer you to the most expensive part of the store but rather find out what you really want and go from there. I told Randy my salesperson that it was a coincidence that my wife and I had been in Georgia and the next Monday when we got back my son called and was talking to his Mom and said that one of the best memories he had when he was a child was listening to her play piano. We built a new house, and she wanted a new piano for Christmas, so that's what we did. The Miller people we met, they are a real quality family. The only thing we need to do now is to get it scheduled for tuning since we have had it awhile. I'll do anything to help you in marketing Miller to others.
_________________________________________________________________________________________
G. Burnette – "We took the 12 Month Financing Deal"
I had an old piano since first grade, a concert piano, and I've had 13-14 years of piano playing experience. Last time I had the old one tuned, the technician said it probably wouldn't tune much more. The lower notes and the top notes would be out of tune, but right in the middle it was okay on the old piano. It was my 40th wedding anniversary when my husband and I on the spur of the moment were at PF Chang's Restaurant and saw the Miller Piano store. Maybe I should have shopped around a little more, but I didn't want to pay big bucks for a piano like a Steinway or a Yamaha when I play only an hour a week or so now, though I play a lot more when I am retired one day. We took the 12 months' free financing offer, but we paid it off early because we don't pay any financing charges. I could have written a check for it that day if I had wanted to, but when you can pay monthly interest-free, why not! Randy was very nice to work with. I would tell anyone about Miller Piano.
_________________________________________________________________________________________
G. Sheehan – "Took my a long time to buy, no pressure"
I bought a Pramberger Player piano. The only other store I shopped was a tiny little place, the Yamaha dealer in Cool Springs. I shop in Cool Springs a lot. Miller had a nice big store front which attracted me there. My husband mentioned that he wanted me to get a piano, so I went looking. Gerald at Miller spent lots of time with me, and so did Mrs. Miller. From the first time I came in until the time I bought was several months. There was no pressure there to try to get me to buy it right now. Gerald showed me all of the pianos and the ones that would work with  my iPod plugged in. The piano was put in the last room that we decorated for a new house, and the piano is now like a member of the family. Gerald followed up with me throughout the process but not too much where it would bug you, not a hard sell. Another reason I bought was the bigger selection and more options available on the piano I wanted. I got a good deal on it with more CD's and extras. The sound is great. Gerald came to my house and made adjustments for me after I bought it.
_________________________________________________________________________________________
Christopher Chi – "Did a wonderful job, best deal"
I had a friend of mine who was giving piano lessons to my kids, and I asked him what kind of piano I should get. He recommended a digital (I bought a Roland). So we went to Miller Piano, and I spoke with Randy there, saw all the pianos, and got all my questions answered. when I go to buy a big ticket item, or something that is more money than I  usually spend, I try to get a friend or a friend of a friend to advise me and help me through the process so that I can get the best deal. Randy was truly a great guy, very nice, very enthusiastic about his job, just a good experience overall, and I got a good price I could live with. Randy got the piano ready for Christmas Eve just in time for Christmas. He really made the experience enjoyable.
_________________________________________________________________________________________
B. Rounds – "Miller has a better warranty than the others"
It was between 2 stores, Miller Piano and Shuff, where I did my shopping. There was no pressure at Miller, and Gerald was a nice guy to work with, letting me try out lots of pianos before I settled on the Young Chang 6'1 PG 185. Of course, it doesn't hurt to have a 50% Off Sale, either, which they did when I bought my piano. I'm a piano player, and I always dreamed of a piano like the one I bought, so I was fortunate to be able to get it. Miller's warranty was 15 years whereas the other pianos I saw were only 10 years. That clinched the deal for me at Miller.
_________________________________________________________________________________________
Larry and Sandy Mays – "Not stuffy, very congenial"
We drove by the store and saw that they were having a 50% off sale. From the moment we walked in, Randy at the store was very courteous. He gave us the answer to everything we asked. He asked lots of questions so that we could determine which piano we wanted, and it turned out to be a Bergmann Grand with a player system on it. We wanted a mid-range piano, not cheap and not expensive. I'm not a piano player, but my wife is, and after 15 years, she wanted to begin playing again. We went to another store, and they were stuffy, so we left and kept shopping around. I also listened to them talk to other customers when we were in there to find out more about them. Randy, our salesperson, was very courteous and congenial to us.
_________________________________________________________________________________________
Luke Miller – "Didn't try to pressure me for more"
I kept hearing the Miller Piano ads on the radio, so finally I came in. They have a great price range for a lot of pianos, so you can choose from a lot of things you can afford. Gerald did not try to pressure me into buying more than I wanted. Miller went above and beyond the call of duty. I told them that I was going to buy the Pearl River GP 150 piano as a surprise for my wife and to keep everything confidential until she got it, and they did just that. I actually saw the piano first at Opry Mills, but that store really didn't know anything about those pianos, so I kept shopping. My wife never knew about the piano until she saw it in our home. Miller was phenomenal to me. I sing their praises, and I have already referred them to several friends. And no, I am not kin to Miller even though we have the same last name!
_________________________________________________________________________________________
D. Ramos – "Never were upset with me for 3 years"
I've been coming to Miller for over three years. I've come in to play lots of pianos and never bought anything. They never complained or got disgusted with me being here and were always eager to talk to me. I've been interested in digital pianos for some time. My Mom knew I was always going to Miller, and she knew I wanted a digital piano, but she said that the timing wasn't right each time I would ask her for one. She would always say, "Maybe in the future." I also went to other piano stores, but they never wanted to engage me in conversation; I guess they thought I was a waste of time since I never bought anything. I'm a college student, so I don't have a couple of thousand dollars sitting around to buy cool things. Then this past Christmas, my parents called me downstairs and gave me an envelope, and inside was the instruction manual to a Roland KF-7. I knew at once they had bought me the KF-7. What a cool present! And Randy at Miller Piano never once complained about me hanging around there for so many years without buying anything. What a great place!
_________________________________________________________________________________________
Tony Donatelli – "Answered all of my technical questions"
My wife was after me for two years to buy a player piano. I was in manufacturing for over 35 years, and we moved a lot during that time, so it didn't seem to make sense then to have a nice instrument and have  to move it all the time. But recently, I had seen a player piano about 4 or 5 times at a friend's house, and that's all it took. I started hitting websites to learn more about pianos and who was selling them, I visited two sites, Steinway and Miller, so that I could get familiar with piano brands. Miller was very good on a big selection, technical expertise, and when I got Randy on the phone, he jumped through the phone to try to help me. He was very helpful. The atmosphere at Miller was very open and conducive to what we wanted. I'm an engineer by trade, so I had a lot of technical questions, and Randy at Miller did a great job explaining the technical side. And we were able to buy without spending a fortune for our Baldwin Grand Piano. I felt comfortable there at Miller.
_________________________________________________________________________________________
W. Watson – "I would tell my students to go there."
The first time we heard about getting a good deal, a friend told us about the commercial and the website. When we decided to buy, when we asked around, our friends told us to go as another lady had shopped at Miller before and was quite satisfied. Went there off 2 recommendations. WLAC was the radio station we heard the ad on. We had planned on going to the other stores in the area and shop around, but when we got in there, it was the paino we wanted, and it was needless to go anywhere else. Gerald met us right away when we walked in. He did a great job and was very friendly without being pushy which I appreciated. I teach piano, and he knew all about the pianos I was interested in. I had been to other piano stores over the years, so I knew about pianos. Miller's store had great variety, lots of uprights and grands, which I liked, and a big price range as well. If you wanted to go all out you could on price and features, and if you'd rather be conservative, they have nice ones as well and even at a cheap price. I got a good deal on Pearl River's smallest Baby Grand as Miller had bought it from a going out of business sales somewhere in Ohio. I would tell my students to go to Miller because for my students, a lot would be looking at digitals or an upright, and they have plenty to choose from in all price ranges.
_________________________________________________________________________________________
J. Ladd – "I felt comfortable there."
I had been looking around for a digital piano and had also been browsing the Internet. What really sold me was Randy as a person at Miller, his expertise in knowing what he was doing. It was a great experience there. I also knew Roland to be a good brand even though I play a Yamaha at my church, and I did go to the Yamaha store as well. But the Roland has a softer sound, and it's really good quality which are two other reasons I bought it. So the main reason I bought at Miller was that I felt comfortable there, and the salesperson, Randy, was very knowledgeable.
_________________________________________________________________________________________
William Larson, One Heart Baptist Church
I had been looking around for a Baby Grand for our church service, and through own Internet and conversations with other people, we found Miller the best place to go to. Their selection was quiet remarkable to be honest with you. I went down with the Korean pastor and his wife, was originally going to buy a used grand piano, but they wanted a new one. The Millers were very accommodating. I know nothing about pianos, and they were very helpful with the pastor and his wife. Miller did a remarkable job working with the church on this. The whole church is elated. I would definitely recommend working with them. Gerald very helpful and Mrs. Miller, both were very professional. They let them try and play every piano they wanted to play. Financially, the Miller gave the church a real good deal. I've been the church's finance director for a number of years. They definitely get my vote, A+. I went on the internet and saw that they had bought up companies locally, and their selection was the best in the area. I inquired in other areas and their reputations weren't as good. Miller was very customer-oriented and attuned to the customer. Their knowledge was very good, too. And if the pastor and his wife decided that they wanted to come back later and get a bigger piano or different one later, they made a good deal to be able to do that. I think they'd do these same types of deals for anyone, not just churches. They won't soak people with something they don't really need; that goes a long way for a company's reputation. And they had great deals on financing. I used to be a salesperson myself, and their folks were very friendly, and the atmosphere was a very warm situation there, and for the Koreans as well, very glowing.  We got a Pearl River GP159.
_________________________________________________________________________________________
Chuck Renner – "Amazing part was what happened after."
The most amazing part was what happened after we bought the Hamilton Grand with a player. It had been sitting around at our place for awhile because our family was not a big piano family, so as the piano would play itself, my son became intrigued and interested in it. Then about 6 months later, he wanted to start taking piano lessons, and now, we can't believe the talent he has in playing. If it hadn't been for the player piano, he may have never been excited enough to want to learn how to play, and we would have never known that he could learn and play so well. We shopped around for 3 months before we decided to purchase at Miller. Randy at the Miller store was very patient with us. The other stores just kind of said, "Here's what we have," but Randy helped us get through all of the options, the sounds, everything we needed to know to make the right decision. We already knew what we wanted but weren't quite sure why we wanted it, so Randy spent a lot of time helping us sort through all of the reasons and the options. Miller Piano is a great place because of the quality time and patience that those folks have in trying to help you get what's right for you.
Save