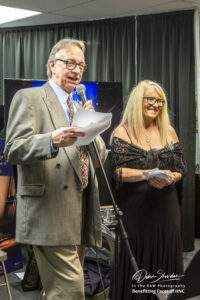 Miller Piano Specialists in Franklin, Tennessee, was the setting on October 27 for the Annual MPS Awards Show, featuring performances, multiple awards, speeches, and a special performance by an international award-winning pianist Caio Pagano. The event coincided with the North American tour to introduce the Kayserburg KA275 flagship 9′ Concert Grand.
Organized and presented by General Manager Sherry Carlisle Smith, the MPS Awards Show is modeled after the People's Choice and the CMA award shows with local fans selecting nominees from Nashville-area and national performers, many of whom have appeared at Miller Piano Specialists' live events.
Producer/Entertainer Dino Pastin was named Instrumentalist of the Year, singer/songwriter Karen Dee received Vocalist of the Year honors, upcoming musician/vocalist Birdie Nicol took home the Horizon Award, contemporary pianist/philanthropist Ed Bazel was presented with both the Lifetime Achievement and Composer of the Year.
Platinum-selling Trick Pony founding member Keith Burns was the recipient of the Songwriter and the Entertainer of the year awards, and Miller Piano Specialists owners Ross and Sylvia Miller were given the Lifetime Achievement in appreciation for their generosity and support of music education and local musicians. With over 40 years of experience in the piano business, the Millers opened Miller Piano Specialists in 2002 where it has become an important part of the Nashville music community.
Leng Tshua, Pearl River Piano Group Global Sales and Marketing Director, and his wife Shirley Zhang were guests of honor during the event. Tshua was responsible for the US tour of Kayserburg KA275 which debuted at Oklahoma Pianos in Broken Arrow in September. Performers and musicians in attendance were universally impressed with the Kayserburg Artists Series Concert Grand, which was used for performances throughout the evening. Handmade from 8,000 perfectly matched components by guild system artisans, the KA275 is considered the ultimate expression of German craftsmanship.