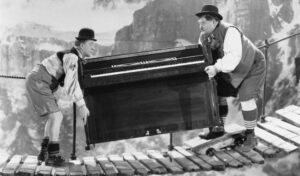 Why do I need professional piano movers, and who are professional piano movers? These are questions we hear frequently in our business. You take a lot of time and energy in shopping for the right instrument for you and your family. When you try to get the "best price" on the movers, or cut corners after you made your piano investment, you could be in for a real problem. There are things you really need to know and consider.
Do the movers carry insurance to pay for damage if they have an accident with your piano? Is it full replacement value? Are the movers trained in piano moving, shipping and packing? Do they have the equipment needed to secure your piano?
You will find a lot of companies will say they are trained, and find they are not. You will learn when reading the fine print they have insurance of .50 per pound on your item. This type of insurance will not start to replace or fix your piano. You may ne able to take out additional insurance but look at the clauses and small print. An accident with your instrument could cost you in more than one way and give you a large headache!
Please call us for referrals of companies that are true piano movers and for any other service needs you may have. You may reach Miller Piano Specialists by calling 615-771-0020.