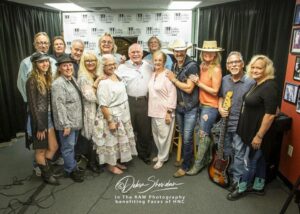 Keith Burns of Trick Pony and his lovely wife Bonnie, joined forces with Miller Piano Specialists to benefit Faces of HNC, founder Debra Sheridan! He rocked the house, as our 7th annual benefit continues to grow with awareness for this cause! He was joined by our host Russ Roberts, Dave Martin, Bobby King, Dino Pastin, Bronson Hermmuth, Rick Lonow as our MPS house band.
Every August we do this to benefit a cause that is near and dear to our hearts. To bring awareness to this "cancer" that is less heard of and spoken about in our world. Debra Sheridan is also a Google Map photographer with over 120 Million hits. She is also available for photography with her proceeds going to Faces of HNC with intheRAWphotography. You can find her work on instagram @dshidantn
Keith sang his hits including; "Pour Me" and "Tryin Times" from his latest album. We hope you can join us next year for this event. Watch Keith's tour dates! We will be working with him again, along with Debra Sheridan on Sunday, September 19th at The Museum of the Coal Industry in Lynnville, In from 1-3. Tickets available on eventbrite.
#millerpianospecialists #facesofhnc #debrasheridan #intheRAWphotography #benefit #liveevents #yamaha #pearlriver #keithburns #trickpony #therightpianoforyou #besomebodysvoice #authorizedpianodealer #middletennessee