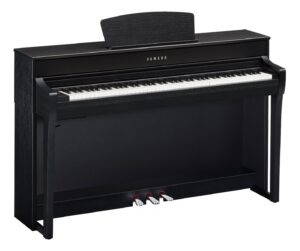 QUICK RECORD ONE TRACK ON YOUR YAMAHA CLP DIGITAL PIANO
1. PICK THE SOUND FIRST TO RECORD
2. (OPTIONAL) PICK THE METRONOME OR RHYTHMN PATTERN YOU WILL BE PLAYING TO.
3. PRESS RECORD, THEN PRESS PLAY
4. PLAY YOUR RECORDING
5. HIT STOP, IT WILL ASK IF YOU WANT TO SAVE, DELETE, RETRY, ETC.
6. YOU MAY ALSO NAME/RENAME A RECORDING. SEE PG 70.
7. *THIS IS GOOD FOR PIANO STUDENTS RECORDING ONE HAND, THEN PRACTICING THE OTHER WHILE THE OTHER RECORDED PART IS PLAYING.
**Our next "how to" will be on multi-track your piano creations.
#millerpianospecialists #howto #yamahaclp #digitalpianos #askaspecialists #authorizeddealer #therightpianoforyou #nashvillesnumberonepianoshowroom