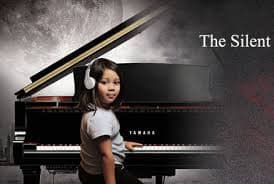 You may ask what is a silent piano and how does it make learning easier? The silent piano by Yamaha is just one instrument in their Hybrid collection. This means they are both "acoustic" and "digital". Learning is made easier with these instruments because of tradition, technology, and silence.
The tradition, of the well made acoustic piano, is important for the player so they get the vibrations that a wooden action has given artists throughout the years. This is something professionals and educators love about the Hybrid series.
Incorporating the technology is a feature that holds the child's attention and makes practicing fun! Their new Yamaha Silent Piano can now record, hook into the computer, have a choice of 10 additional sounds, and expand with technology as it becomes available. In today's society, this is a major feature for educating our children.
The silent feature adds a personal "practice time". Your child can engage the headphones and practice without being interrupted by the daily routines of the home. They feel more comfortable in making a mistake and correcting it if no one hears it but them during rehearsal time.
For all of these reasons and many more, the Yamaha Silent Piano (Hybrid), is one of the better choices for your child's musical education!