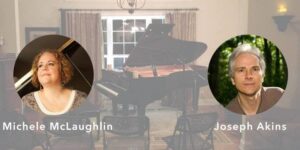 DUE TO ILLNESS….EVENT CANCELED THIS WEEKEND
House Concert with Michele McLaughlin and Joseph Akins
Our first house concerts for 2018 features the award-winning Michele McLaughlin from Salt Lake City, UT (read more about Michel below). She and I will be performing our original music for an intimate audience within the comforts of a home. Join us! You'll laugh, relax and enjoy the evening as we tell stories and play our music on a beautiful Yamaha C7 grand piano.
Goodies will be served, and door prizes will be given. However, you are welcome to bring your own beverage. Tickets are $20.00 and can be purchased at www.eventbrite.com. If the concerts do not sell out, you can purchase tickets at the door (please check first). Door opens at 7:00 and concerts begins at 7:30 pm on Friday, May 4 and Saturday, May 5th. Be sure to purchase tickets for the right date. Get your tickets at eventbrite.com