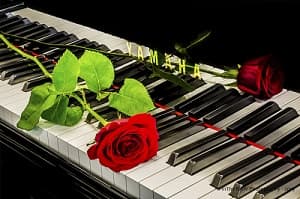 February is a special month… We have some special things for your deliveries this month, and we would like to help you plan some great surprises for your "sweetheart"….. miller piano specialists. We love making your purchase special and one that only you could have imagined!
February has always been a month for "sweethearts" and February 2016 will be no different! Miller Piano Specialists is featuring this as their "Grand" month! Surprise your sweetheart with the piano of their dreams with our special packaging! During the month of February, all new and pre-loved "grand" purchases will come with a custom delivery package.
Candy and flowers are great! But imagine the face of your "sweetheart" if they walk in and find candy and a single red rose on the bench of a beautiful "grand piano".