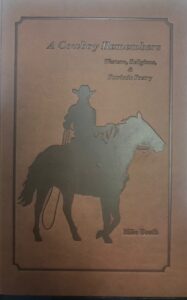 We were pleased a few months ago to feature an entertainer that toured and recorded with the legendary Jordanaires, auctioneer, and author into our studio performing some of his latest poetry and songs from "A Cowboy Remembers" Mike Booth is from the sunshine state of Florida, and you can find him performing and also one of the top Host on The Gem Shopping Network.
He has been working on a compulation of poetry for years and finally completed his project "A Cowboy Remembers". It is now available by going to acowboyremember.com or acowboyremembers@gmail.com He will sign and send your copy to you personally to show his support you have shown him for so many years.
We have our copy has arrived, and it is great! Don't miss out! Get your copy today! You may also go on our videos on facebook and see a true Mike Booth performance.
#millerpianospecialists #liveevents #acowboyremembers #mikebooth #apianostoreandmore #morethanapianostore