It can be easy to look at a piano and immediately feeling intimidated. Where do you start? HOW do you start? Becoming a great piano player can take years of practice, but what if learning some of the basics is way easier than you might think? We're going to show you how to develop your piano skills, what you need, and how to begin.
1. Get a Piano
Before you start learning how to play the piano, you might need one. Finding the right piano for you can be hard without the right assistance or knowledge. A piano is an investment, and you deserve to find the model you want at a price you can afford. At Miller Piano Specialists, pianos are more than our business – they're our passion. So if you don't already have one, go check out some amazing deals, pianos, and keyboards that could be your perfect one at Miller Piano Specialists.
2. Be Familiar With Your Finger Placement
When you first start playing the piano, there is the right placement for your fingers and hands. Believe it or not, the way you hold your body while you play affects the way your piano playing will sound, it's all connected! To achieve the best sound possible as a beginner, make sure your back and shoulders are not tense, make sure your hand is relaxed, and your fingers are curved. From there, learning your finger placements on the keys and learning easy scale drills will help you achieve a great sound quickly. Try to practice these steps a few times to get accustomed, and remember that practice makes progress.
Check out this video on proper finger placement:
3. Learn Basic Chords
Learning a few basic chords on your piano can take you farther than you might think. Many of your favorite songs probably have the same four chords, but just have different progressions of those chords. After you learn the placement of each of your fingers, you can slowly begin to develop muscle memory, which is when your fingers will automatically go to the chord without you even trying! With anything, practice makes perfect, so repetition and some dedication will go a long way for your piano skills.
Check out this video showing you four easy chords to learn right now:
4. Piano Lessons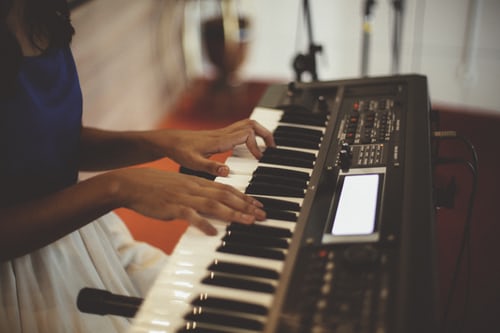 Having an instructor who makes the time to know your learning style, your aptitudes, and your speed can be the game-changer. If you're more interested in a person-to-person piano lesson that really works, we can help you! Miller Piano Specialists in Nashville offer you amazing instructors who can guide you (or your child) from your first sit-down at the piano to becoming an accomplished musician.
We also offer LIVE classes every day now at 2:30 on our Miller Piano Specialist Facebook Page, and they're all free! Take advantage of learning directly from great instructors. You can learn and put into action while you are home "playing"!
If you miss the live classes, you can go to our video section to find helpful videos to grow your piano playing skills.
Conclusion
We hope these four easy tips showed you how to go from a beginner to becoming a great piano player! If you have any questions about lessons or keyboards, click on the link to find out more. Due to COVID-19, we have set up home offices to work from and still have door pick up or delivery with appointments. You can still go to millerps.com for pianos available and for more information.