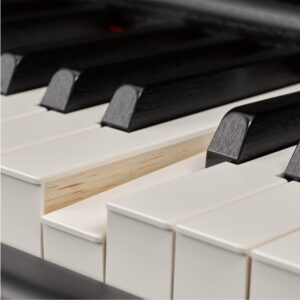 Yamaha How To Disklavier Enspire
Trouble shooting – part 1
June 2021
When your piano is "off line"
1. Your first step is to make sure you have not changed your wi-fi/internet, or your credit card associated with your Yamaha Radio account.
2. Turn off your Yamaha Disklavier Enspire manually by pushing the round button under the front controller box on the left of your piano. The button is on the far left, once again, underneath the controller box.
3. If your Disklavier is not going online, first check you ios devices (ipad/iphone) to make sure you are on the same internet wi-fi as your piano. *some homes have more than one internet/wifi.
4. To set your ios device, turn the wi-fi off, then back on to get the same wi-fi as your piano. When your piano was installed with a tutorial, your installer usually will write or ask you to write your music soft account name and password in your owners manual for such a reference. Also, we have requested in the past you put your internet/wifi and password in the owners manual as well. *Also if you have several screens open on your phone or ipad, close them first, as this is "overload for your apps sometimes".
5. Once your device is on the correct internet, turn on your piano, like you manually turned it off. *see step 3*
6. PATIENCE PLEASE: It will take the piano 5-10 seconds to go thru setting up, green lights will start coming on and blinking then go solid green when finished. *if you have red blinking lights, please call you Specialists or installer*
7. Open your Enspire app on one device at a time. Ex: Take your phone and open your app. (make sure all other screens are swiped off – (*see step 4)
8. PATIENCE AGAIN: Give the app 5-8 seconds to come up and you will see a screen that shows your Disklavier number, tap this line.
9. This means your are now connected to the piano. Select Disklavier radio, tv, etc, and remember it takes a few seconds to pull up your channels for the radio.
10. Start playing your Yamaha Disklavier Enspire!