Looking for an affordable Yamaha keyboard but have a limited budget? Let us help you!
Many people would assume that you need to shell out a large amount of cash in order to buy a new, great-sounding piano or keyboard. But that's not always the case. Looking for a keyboard with a limited budget is actually more possible than you may think. Here are three of the most affordable Yamaha keyboards that range from $500-$1,500. You can buy one as a gift, or you can gift yourself one and learn how to play immediately. Lets a look at three of the most affordable Yamaha keyboards on the market today:


P-515 Pro Line – $1499

There is something different about playing a classic acoustic piano. The rich sound, the weighted wooden keys, and the feeling that it brings. But, what if you don't have room space for one or you need something more portable? Then the P-515 digital piano could be EXACTLY what you're looking for.

The P-515 has an advanced sound quality that sounds natural, even with headphones on. For a more realistic feel and touch, the keys are also made out of carefully dried wood that is cut out of the finest part of the tree.
Overall, the design of the P-515 Pro-Line makes this the ideal digital piano for players at any level. Click here to learn more.
P-125 – $649
If you are on a lower budget and looking for a natural acoustic touch and sound, the P-125 is another great option for you. The sound in this piano has been improved to produce an expansive sound through the 2-way speaker system that produces sound both upward and downward directions. The best part about this piano has to be the quality sound and the simple, portable package it comes from.  This gives the player a rich stereo sound as if you were sitting at an acoustic piano.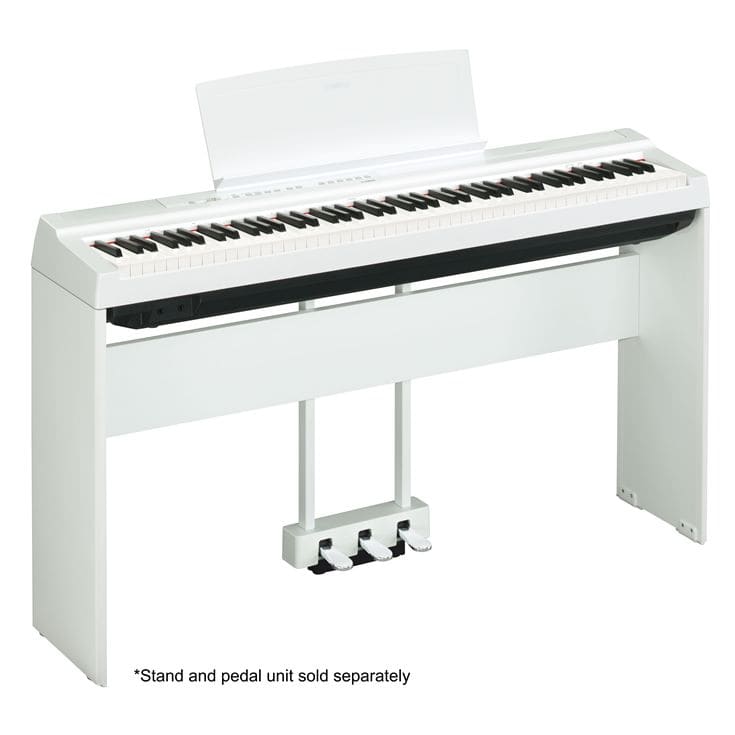 Since the P-125 is a digital piano, you are able to use an app called Smart Pianist to control the many functions included in your Yamaha piano, all on your smart phone. Different settings and functions like voices and rhythms can be selected through this app. This can be an easy way to learn and be creative in your playing skills with this piano. Click here if you want to know more.
Yamaha P-45 – $599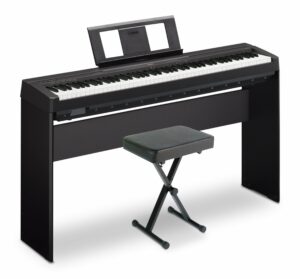 The Yamaha P-45 is the successor to the Yamaha P-35. And what the P-35 lacks, the Yamaha P-45 fills perfectly. The P-45 comes with improved sounds and higher polyphony. Plus, it has a USB outlet that allows you to transfer your tracks from the keyboard to your player or computer. While the Yamaha YPG-535 has 3 touch sensitivity levels, the P-45 has 4 – Soft, Medium, Hard, and Fixed.
Its graded hammer action keys provide a realistic sound. With its improved sounds – thanks to Yamaha's AWM Stereo Sampling – the Yamaha P-45 is perfect for high-quality piano voices, albeit limited. This keyboard also comes with 10 preset songs and 10 demos, which you can have fun playing along. And let's talk about the 6W speakers, which can be heard just fine when played in a small room. A medium-sized auditorium may be a bit of a reach, but you can always use an amplifier for that. Interested in this one? Click on the link for more info.
Conclusion
We hope you enjoyed reading about the most affordable and high-quality Yamaha keyboards in the market today. If you want more info on these keyboards or you just want to check out other keyboards and pianos available, you can visit our store, email us, or visit our website by clicking on this link.
Remember that we are able to complete a purchase online, and we have door pick up or DELIVERY with appointments to help our community during this time. Go to millerps.com for more information. We are here for you!