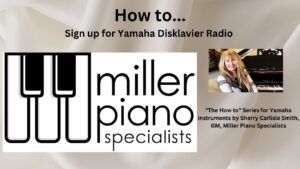 Signing up for Disklavier Radio:
*On your computer/Phone go to https://shop.usa.yamaha.com/downloadables
*Once you have the website pulled up you want to "Downloadables"
*From there you want to click on "Piano Radio"
*Once you click on Piano Radio, you want to put in what model you have. (If you are unsure feel free to *ask either the person installing the piano or the dealer you got it from)
*After choosing the Model you want to pick either the Monthly subscription or the annual subscription. We recommend the annual, because it does come out a bit cheaper for you then doing the monthly.
*From there you will Create a new account and follow the steps to put in your card information and create password and username.
*Be sure you don't forget the Username and Password; you will need those to make your piano work! We recommend writing those in the front of the owners Manuel of the piano in case you need it.
*Once your account it create you can either let the person working on installing the piano know or you can continue to the next page to learn about the Disklavier Enspire App !