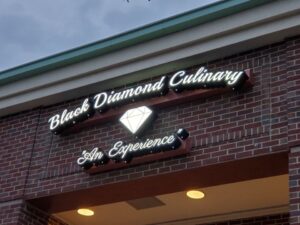 We are so proud to work with Black Diamond Culinary on several events this past year! They have a wonderful Yamaha Disklavier in their Culinary School for atmosphere and soothing music. We want to announce OPEN FOR BUSINESS!
They had a wonderful soft Open House on Monday, June 15th from 5pm-9pm. You can find pictures in our Albums on our Miller Piano Specialists facebook.
Their GRAND OPENING IS SCHEDULED FOR SATURDAY, JUNE 20, 2020 FROM 5-9PM. They will welcome friends with wine, hors d'oeuvres and more important the "experience".
MEET CHEF AND OWNER, KRIS MCCORKLE, & NEW TO OUR TEAM, CHEF "ROCKY" TO GET A SMALL TASTE OF WHAT IS TO COME, FAMILIARIZE YOURSELF WITH OUR SPACE, AND TO PLAN YOUR NEXT OUTING!
GRAND OPENING SPECIAL:
BUY ONE CLASS AT FULL CLASS PRICE, AND GET YOUR SECOND CLASS AT HALF PRICE FOR A LIMITED TIME!
(MUST BE FOR THE SAME CLASS)
Address or for more information:
615 Bakers Bridge Ave., Suite 120
Franklin, TN 37067
(615) 715-9059