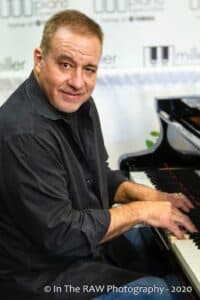 Welcome Dino Pastin to Miller Piano Specialists! He will be teaching piano at our location. Contact us at 615-771-0020 for more info and sign up availability! Thank you Debra Sheridan for a great photo!
Here is some of his accomplishments:
Dino Pastin: Producer, Musician, Composer, with over three decades of experience in the entertainment industry, has recorded and toured with the legendary super group, ALABAMA (7yrs) and multi-awarding winning Entertainer of the Year, BARBARA MANDRELL (10yrs). Dino has been the Music Director (10yrs) for a multi-ethnic mega church in Nashville, TN. and has produced Recordings, Dramas, Videos, Dances, etc.
He has worked with top producers: Dick Clark, Michael Omartian, Don Cook, Darren Smith(Tim McGraw Show) and also with artists: N'SYNC, Gladys Knight, Dolly Parton, Jim Nabors, Tiny Tim, Kid Rock, Bekka Bramlett and performed on all of the Award Shows: Grammys, ACM, CMA, Dove, etc. as well as the Late Night TV Talk Shows, HBO Specials, TNN Network Specials, The Grand Ole Opry, Hee Haw, Statler Brothers Show, New Country, Alabama's 42 – #1 Hit's Special, just to name a few. Dino has performed at The White House several times and was privileged meet President George Bush and other top officials at that time.
#millerpianospecialists #music #education #teachers #yamahapianos #technology #intheRAWphotography