Teaching kids to play the piano is, and always has been, a challenge for both parents and piano teachers. It can get crazy at times especially when kids can't sit still for a few hours. And although it's pretty normal, the challenge can be frustrating. But, there are ways to make the activity easier – by incorporating piano games for kids to your lessons. Here are some fun and effective piano games for kids you might want to try.
But first, why teach your kid how to play the piano? We at Miller Piano consider this instrument as an umbrella instrument. Piano lessons include pretty much everything that's needed to know about music. From reading notes down to composition, learning how to play the piano got it covered. So if your kid shows an inclination to music, it's pivotal to teach them to play the piano while they're young.
This list of piano games for kids may come as overwhelming, but don't fret. They're so simple and fun to do that kids can enjoy. Without further ado, let's hit it.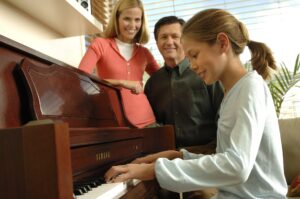 Teaching Rhythm By Repeating Your Sound
This is one of the easiest piano games for kids and can be done without any piano knowledge. Do this by having your kid on the piano and you nearby. Then instruct by repeating after you. Make some simple sounds – clapping your hands or stomping your feet are some examples you can use. Then once you're done with the sounds, ask what your action sounds like and let your kid find it by hitting a key. When they get the idea of the game, you can do more sounds like tapping on the table or counting 1-2-3.
Give The Piano Keys Animal Code Names
This game aims to get kids acquainted with the keys. As an adult, you may find it easier to memorize the octave – that is not the same situation with kids. Name each key with animals that start with the same letter. For example, C can be named as the "cat key", D as "dog key", E as "elephant key", and so on. Ask them to find the "cat key" and hit it. That way, your kids will know what the keys represent while having fun.
Catch The Rhythm By Humming
If your kid already has the basic knowledge of the keys, it's time to play with rhythm. The game goes by having your kid at the piano and you at the side. Start humming some simple tunes – four notes will do. Then, ask which keys to hit to produce a similar sound. When your kid successfully gets it right, move on to another tune. Increase the number of notes gradually to master your kid's skill in reading rhythm.
You Can Get By With A Little Help From Piano Apps
Although these piano games for kids can be fun, it can get repetitive and boring in time. When that happens, you can introduce piano apps for kids. There are plenty of these apps – some even come for free. But one of the apps we recommend is the Piano Maestro by JoyTunes. Piano Maestro is an app that guides piano students on how to play the piano. They come with lessons and backed with thousands of songs to choose from. Every lesson and test, the app provides instant feedback that guides your kid on how to do it the right way. It may be complicated at first but using the app will become much easier in time.
Another piano app that you can download is GarageBand, an app available for Apple users. We recommend this for those who already have the basic piano knowledge and want to touch their composition and improvisation skills. If you're asking why you should consider, this app helps in nurturing the kids' creativity and originality. With GarageBand, they can compose and improvise their music. So if your kid is ready to explore the world of music-making, you can get this app right away. GarageBand is recommended for kids age 6 and up.
Find These Piano Games for Kids Useful?
When it's practice time, don't forget to apply these piano games for kids. These games will give the boost you need and, in time, will bring out the creativity and confidence out of your kid. If you live in Middle Tennessee, we provide piano lessons in Franklin, TN, for kids and adults alike. And if you're looking for a new or used piano to add to your home, visit our store. Click on the link provided.