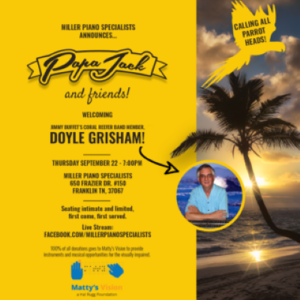 We are pleased to announce the online special event "Papa Jack and Friends featuring Doyle Grisham, Jimmy Buffett's Coral Reefer band member on steel guitar! This will benefit Matty's Vision, a Hal Rugg Foundation for the school of the blind. This nonprofit serves schools in Indiana, Tennessee and Arizona.
Show time is 7:00 pm on Thursday, September 22nd in the Miller Piano Specialists Showroom. Seating is limited for the live performance, so please call or text 615-771-0020 for reserved seating. Additional parking is available in the back of the showroom. You can watch it "live" on Miller Piano Specialists' Facebook page and donate online that night as well. For more information on Matty's Vision go to mattysvision.com
The purpose of this Hal Rugg Foundation is to honor the caring person my father was by helping visually impaired children, such as my grandson, Matthew Aaron Maynes (pronounced minus) discover the benefits of music. In people with sight music helps create wellness, both mentally and physically, and provides clinically proven educational benefits. For the visually impaired it provides these advantages plus a window into a powerful world of expression so needed for them that I can find no words to express.
Our simple goal is to empower and enrich as many of these children as we can by giving them musical instruments and circumstances to learn how to use them in.
#liveevent #nonprofit #mattysvision #halruggfoundation #millerpianospecialists #apianostoreandmore #morethanapianostore #pearlriver #ritmuller #kayserburg #yamaha