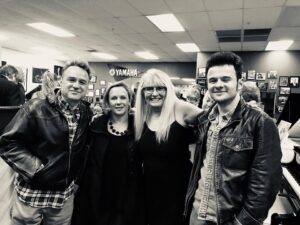 Thank you to everyone that attended, nominees, winners and fans that attended our 3rd annual MPS Award Show on October 24, 2019! It was an awesome evening with music, fun and recognition to some wonderful artists! All the nominees are winners in our book!
Performances were by Red Ridge Riders, Ronnie Dean and Travis Wetzel, Angela Peterson, Russ Roberts, Ed Bazel and Rex Allen Jr. Winners included; Marlowe Carruth, Dr. Joseph Akins, Angela Peterson, EJ Ford, Cathy Oakes, Yates McKendree, Ed Bazel and Rex Allen Jr.
Special thanks to John Haggard as presenter of our Horizon and Lifetime Achievement Awards, Jason Skipper for Tech Support, Debra Sheridan for videography, Amy Miller for Photography, Dakota Smith for presenting, and Kris McCorkle with Black Diamond Culinary for catering.
We look forward to another great year for 2020! Please see pictures of this event on our facebook page, Miller Piano Specialists. For more information on how you can be on our events list, please call 615-771-0020
#millerpianospecialists #MPSAwards #yamaha #classic #contemporary #enpointe #blackdiamondculinary #pianos #grands #hybrids #authorizeddealer