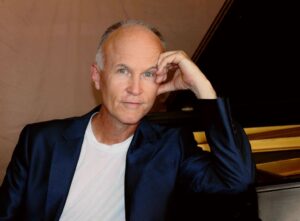 Since the independent release of his breakthrough solo piano collection Tender Ritual in 1985 on the Unspeakable Freedom Music label, Jim Chappell has been acknowledged as one of the contemporary music's most engaging composers and performers.
With 20 albums to his credit, Chappell has toured world-wide to sold out audiences, his concerts being filmed and nationally televised. Chappell was the only music artist to perform at Rober DeNiro's 50th birthday party, where he played to a hushed crowd of who's who in the film industry.
Several of Jim's albums have received heavy national and international airplay on Smooth Jazz format radio stations, with Chappell's Over The Top making it to No. 1 on the national charts. Along with compsing music for the Blake Edwards feature film comedy "Switch" his music has been nationally broadcast on Good Marning America, The Today Show, CNN, The Voice, MTV, The Summer and Winter Olympic Games, NBC, and Fox Sports Specials. Gold medal figure skater Brian Boitano skated to Jim's beautiful piece "Gone" in a nationally televised Thanksgiving day broadcast presentation.
Don't miss his performance at Miller Piano Specialists on Thursday, April 25th at 7:00. Tickets are $20 general admission and $15 dollars for students. They are available at eventbright.com (search Franklin, TN) or you can reserve seats by calling 615-771-0020.