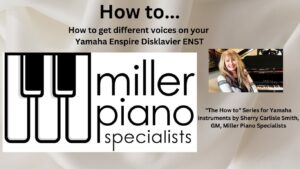 How to get different voices on your Yamaha Enspire Disklavier ENST
*This only works with headphones or your piano attached to external speakers
Go to your Enspire App
When you get to the main menu go to the bottom right corner to the little mixing board icon. Tap that and make sure you are on the "quiet" mode of your piano.
Now tap the three lines on the top left of that page, we call that the "hamburger icon". This will take you back to the main menu.
Tap the little "piano icon" setting where it says Metronome, Voice, Reverb.
Your menue will now say "playing functions". Tap "Voice". Now you have the choice of 16 different voices or sounds you can play on your Yamaha Disklavier Enspire.
**Have fun!