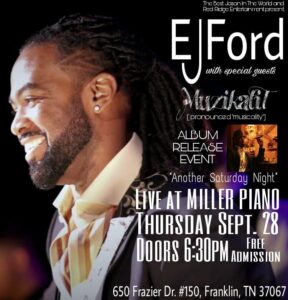 If you did not attend or tune in to the live broadcast of the EJ Ford Cd Release Party and Celebration, you missed it! The talent and excitement with this artists and fellow musicians was outstanding! He played some tunes from his release and then just jammed out on some great material! Miller Piano Specialists was proud to host this event, and fans, family and the music industry were all present to support this rising artist. EJ played his tunes on the world famous Yamaha C7X sh for the perfomance.
You may obtain a cd entitled "Another Saturday Night" by going to paypal.me/EJFord25 for $10.00 A live video was shot and that will be available soon. Videography was done by Chris Beals and photography was done by Debra Sheridan with In the RAW photography.
If you have not signed up for our event notification, please contact a representative at 615-771-0020. Or if you would like to plan an event here, please contact Sherry Smith at the same number.