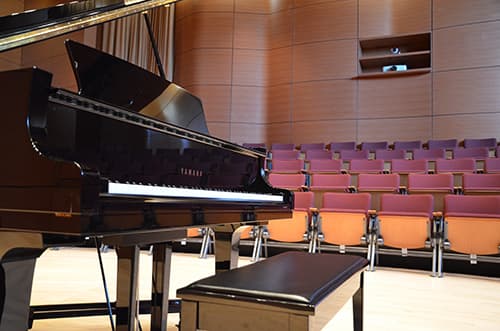 New Music Building is Equipped with 118 Yamaha Instruments
The long-awaited new home for Northwestern University's Bienen School of Music opened ahead of schedule this spring for music academic classes, allowing students and faculty to use the classrooms on the first and lower level of the facility's five music floors. While the rest of the building becomes occupied this summer, soon students and faculty will return for fall quarter and finally get their hands on all the new pianos selected to fill the classrooms and rehearsal spaces of the state-of-the-art facility, including more than 110 Yamaha acoustic and digital pianos.
According to René E. Machado, associate dean for administration and finance for the Bienen School, students and faculty are eager to play the new pianos, since Northwestern for the past few years held off on replacing instruments until the new facility was completed.
"For many years we were waiting to purchase new pianos until we had an environment appropriate for new instruments," Machado said. "With the new building, not only are temperature and humidity conditions more hospitable for new pianos, but we are also gaining over 40 practice rooms from what we previously had. Obviously, those factors meant that we needed to buy a considerable number of pianos, and since the Yamaha uprights used at the school for many years were so durable and reliable, it was an easy decision to remain with these Yamaha pianos for the new building."
Yamaha piano
Bienen school individuals reached out to Jeff Tasch, president and co-owner of Grand Piano Haus, about purchasing the Yamaha pianos that will be used on a daily basis by the approximately 650 students at the school. Grand Piano Haus staff, which has a strong relationship with Bienen and a solid reputation in institutional sales and service, worked closely with Dan Rodowicz, Yamaha's Institutional Channel Manager, Jun Fujimoto, Yamaha's Institutional Sales Manager for the U.S. Western Territory, and Bienen representatives to ensure a smooth purchase, as well as delivery and installation.
"We're very pleased that Northwestern University's Bienen School of Music joins a growing list of fine universities, colleges, conservatories and other music institutions throughout the country to recognize the quality that the Yamaha brand provides," Rodowicz said. "The new music building at Northwestern is a beautiful, modern facility, and we're happy that Yamaha is able to play a vital role in the music education that will take place in that facility for countless undergraduate and graduate students for decades to come."
In all, 118 Yamaha instruments were purchased for the new music building, including upright pianos, grand pianos and digital pianos for music labs and some academic faculty offices.
"Only Yamaha could provide the combination of traditional instruments and groundbreaking technology that the Bienen School of Music was looking for to meet the needs of today's technologically progressive musicians," Tasch explained.
Yamaha piano in McClintock choral and rehearsal room
Students will get the chance to explore the rich, harmonic sound of five Yamaha C3X grand pianos in Northwestern's new music center. The C3X, like other grand pianos in Yamaha's CX Series, also offers incredible projection, unprecedented response, a clear range of tonal colors and a nuanced, expressive sound. The CX Series of grand pianos incorporates many of the materials and design features of the acclaimed CF Series Concert Pianos that spent 19 years in development.
In addition, 77 Yamaha U1 professional upright acoustic pianos were delivered to the new Music facility on the Evanston campus in April.
The Yamaha U1 acoustic upright has long been the preferred upright choice for institutions, offering craftsmanship that provides consistency in sound quality, responsiveness and performance, along with the durability required to hold up well even when used heavily, such as in an educational setting. But the Yamaha U1 remains the upright of choice for professional pianists around the globe.
"From our own experience with Yamaha, particularly the U1 model, there was no question in our minds that it is what we wanted to buy," Machado explained. "They are well built instruments that provide the level of performance we need and expect and now that we have proper environmental conditions, these durable instruments will have a very long and useful life here."
Bienen students will also have the opportunity to play Clavinovas, the next generation of digital pianos, hailed by critics and performers alike for their ability to remarkably reproduce the playing experience and sound of a world-class Yamaha full concert grand piano. The school purchased 32 Clavinovas, widely recognized for providing amazing versatility and state-of-the-art functionality. Bienen's new Clavinovas includes 24 CLP535B models, 6 CLP545B models and 2 CVP609B models.
The new building features two keyboard skills labs to be equipped with 26 of the Yamaha digital pianos. In the undergraduate program at Bienen, all music majors who are not pianists are required to attain certain levels of keyboard proficiency, so the two music labs will be heavily used for instruction.
Practice room looking over atrium
"Each of the two keyboard labs feature a digital console used by the instructor to demonstrate and also listen in to individual students, and having that kind of technology really lends itself to the type of music education taking place in those labs," Machado said. "Again, we knew from our experience there was no question that we would select Yamaha to have the latest in technology in our keyboard labs."
The new facility allows all the Bienen School's music instruction and related programs to be housed in the same location for the first time in over 35 years. In addition to an expanded number of classrooms, practice rooms and rehearsal spaces, the approximately 120,000 square feet of music space also includes faculty offices and teaching studios, administrative and program offices, conference rooms, and three performance venues: a choral and recital room, a black box opera theater and a 400-seat recital hall.
A ribbon-cutting ceremony for the new building is scheduled on September 24, 2015.