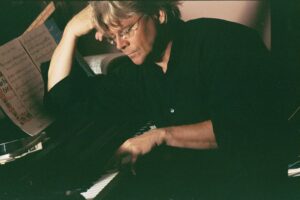 Simply Music is a revolutionary, Australian-developed piano learning method that offers a breakthrough in music education. This remarkable approach has students of all ages playing great-sounding contemporary, classical, gospel, blues and accompaniment pieces – immediately – from their very first lessons.
Mark Sorrells is a Certified Simply Music Teacher, and loves to work with all ages from 6 to 76.  He uses the Simply Music method to teach those who have never played piano before, as well as those who have had prior traditional and classical training.  His students range from child and adult beginners to performing Americana artists and songwriters.  His students have included a diverse range of people, from an F-106 fighter pilot, to several MBA's, doctors and lawyers, students to professional performers and Grammy-winning songwriters.
If you've always wanted to play piano, or you'd like to add knowledge, acuity, pazazz and sizzle to your current piano styles, please contact Mark Sorrells at 615.473.5607.  Mark would love to talk with you to learn your desires and goals for piano playing.  The simple joy of making your own music is a deep and profound reason to play piano.  Mark would love to help you find your joy!
As a performer, Mark has played jazz piano in Nashville for over twenty years. He is currently scheduled for a series of recitals in the Cheekwood Museum of Art for the Bruce Munro LIGHT exhibition this spring/summer.  Mark's style shifts easily from smooth and sophisticated jazz and swing to barrelhouse, blues, boogie & New Orleans piano music. His repertoire ranges from classical to New Orleans gumbo, Gershwin to Memphis, from swing to salsa to seminal rock 'n roll, always with a special love and care for the diverse roots of our American musical influence.
Mark is currently a mainstay at Whitfield's Restaurant as a regular solo artist and as leader of the Mark Sorrells Trio.  Mark also performs with James R. Newell as Newell & Sorrells, a jazz/blues and boogie duo. Mark's performance history includes extended stays at Sole Mio, Merchant's, 106 Club, F. Scott's, the Hillwood and Richland Country Clubs, and Mark was the house pianist at the Belle Meade Brasserie in Nashville for five years, at Saffire in the Factory in Franklin for two, and at Nero's Restaurant & Piano Bar for the past year. Mark is also a multi-faceted and published songwriter, writing and producing in his own studio.