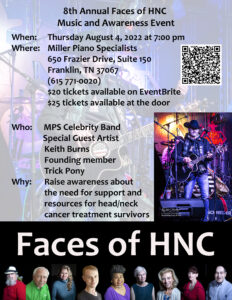 Please "Save the Date" for our 8th annual Faces of HNC Music and Awareness Event! It is held at Miller Piano Specialists' Showroom at 650 Frazier Dr. Suite 150, in Franklin, Tn.
We have been bringing in a guest artist with our MPS Celebrity Band for a concert event raising money for Head and Neck Cancer thru Faces of HNC, with founder, photographer and cancer warrior, Debra Sheridan.
Keith Burns of Trick Pony will be returning with some other surprises for you. We will serve hor D'vours and have picture opportunities with a meet and greet with artists.
This is the ONLY event we charge $20 in advance for and $25 at the door, with limited seating to be up close and personal. ALL proceeds go to promote the awareness and help for Head and Neck Cancer. Remember….Cancer is Cancer.
This is a wonderful cause, and we are looking forward to you being a part of it! You may go to Eventbrite for tickets on line, or call 615-771-0020 for "saving your seat". Please ask for Sherry and there is additional parking behind our showroom for the evening.
We would like to thank the following sponsors this year: Pearl River Piano Group, Sperry's Restaurant, Spooky's Pizza and Grill, Cool Springs Wine and Spirits, Twice Daily and Publics.
#facesofhnc #millerpianospecialists #8thannual #fundraiser #cancerawareness #cancer #authorizedpianodealer #liveevents #eventbrite #keithburns #trickpony #meetandgreet #mpscelebrityband
#debrasheridan #morethanapianostore #apianostoreandmore #pearlriver #ritmuller