Looking for a fun way to celebrate Easter and save big on your next piano purchase? Look no further than Miller Piano Specialists! Our Easter Sale and Egg Hunt are now in full swing, and you won't want to miss out on the amazing prizes and discounts we have to offer.
During our Easter Sale, you can save big on all types of pianos, from digital to upright to grand. And as an extra incentive, we're offering amazing prizes for those who participate in our Easter Egg Hunt. These prizes include gift cards of up to $100 in value and lots of candy. Additionally, find amazing sale prices and when you're ready to make your purchase, select a giant egg for additional discounts up to an additional 10% off or even free delivery, up to a $350 value, on your new piano purchase! So come on down to Miller Piano Specialists and join in the fun. Our Easter Sale and Egg Hunt are the perfect way to celebrate the season and save big on your next piano purchase. But hurry – these deals won't last forever, so be sure to stop by soon! Call us now at 615-771-0020, chat with us in the chat widget below, or fill out a form by clicking here to get started!
---
Promotion Details:
Egg Hunt Procedure:
A limited number of plastic eggs (apx. 2.36 inches tall x 1.7 inches wide) will be placed throughout the store. Eggs can be gathered at will by any single "party". In the event there are multiple parties in the store all wishing to participate in an egg hunt at the same time, the store may be sectioned or partitioned to accommodate multiple parties. In the event that the store is sectioned/partitioned, egg quantities will be adjusted for each section to have equal opportunity to the same number of eggs based on the number of participants.
After any party has hunted, eggs will be replaced/replenished. No purchase necessary.
Egg Hunt Rules:
No purchase is necessary to participate in the Miller Piano Specialists Egg Hunt.
All eggs will contain pre-wrapped candy.
Some eggs may contain a gift card notification, ranging in value from $5.00 to $100.00. Gift card award notifications can be redeemed on-site at the time of the egg hunt for the actual gift card.
Odds of winning candy = 100%.
Odds of winning a gift certificate as well as odds that all certificates will be distributed is dependent on the number of participants. There will be $1000 in certificates in total, in quantities as follows: fifty (50) $5.00 certificates, twenty (20) $10.00 certificates, ten (10) $20.00 certificates, five (5) $50.00 certificates and one (1) $100 certificate. Fair efforts will be made to ensure one (1) gift card notification is included in each egg hunt setting. However, there is no guarantee that particular egg will be found during any party's egg hunt.
Egg Hunt is limited to one (1) egg hunt per party during the promotional period.
Golden Egg Discount Offer Procedure:
In addition to the smaller "Egg Hunt" eggs, a separate basket featuring large Golden Eggs will be on display in the store. Any visiting party can ask any staff member to witness them select and open a single Golden Egg. Each Golden Egg will feature an additional discount that is an in-store offer and can be accepted and used at the time of any purchase during the promotional period. Golden Egg offers will range from 3% to 10%. A Golden Egg offer may also be for "Free Delivery", terms of which are noted in "Golden Egg Rules". Limit of one (1) golden egg offer per party during the promotional period. After any Golden Egg has been opened and the discount noted, the offer will be replaced in the Golden Egg and the egg will be returned to the basket. Miller Piano Specialists reserves the right to scramble (mix up) Golden Eggs in the basket at any time in an effort to keep discounts from any particular egg unknown and as random as possible.No purchase necessary to receive a Golden Egg Discount Offer.
Golden Eggs Rules:
Special pricing is displayed on many instruments and where not displayed on the instrument is published in sales staff pricing guides.
Discounts in addition to the special pricing are available via a Golden Egg offer and are subject to buyer approval. No purchase necessary to receive a Golden Egg additional discount offer.
Any party can request access to a Golden Egg.
Limit to one (1) Golden Egg offer per party during the promotional period.
Golden Egg offers expire at the end of the promotional period.
Golden Eggs and their respective enclosed offers will be reused after each use.
Discounts available via Golden Eggs are as follows: 3%, 4%, 5%, 6%, 7%, 8%, 9%, 10%, Free Standard Delivery. Each discount is in addition to special event pricing.
Odds of getting any specific discount is 1 in 9.
Free Standard Delivery is defined as delivery up to 25 miles from event location, a maximum of 5 stairs and a stated value of up to $350. No extra award or discount will be offered if standard delivery is less than $350 (i.e. upright or digital piano where the standard delivery value ranges from $180 to $250).
A staff member must be present during the opening of any Golden Egg to validate the additional discount.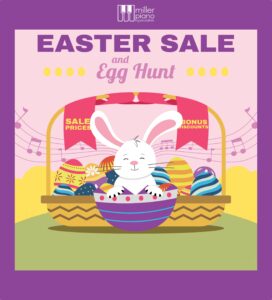 General Terms and Conditions:
The promotional period will begin at 4PM local time on 4/6/2023 and end at 6PM local time on 4/29/2023.
All children under the age of 16 must be accompanied by an adult at least 21 years or older.
A party is defined as any guest along with their associated family and/or friends who are present at the time of an in-store visit.
All discounts and other offers provided during the Easter Sale are subject to the limited quantities on hand. No special orders will be accepted.
Gift Certificates available during this event are specifically for Target and Amazon. Neither Target nor Amazon have authorized or endorsed this event. Gift certificates were purchased at retail directly from each organization and the use of those gift certificates is subject to each companies' published guidelines/requirements. Miller Piano Specialists offers no warranties or guarantees related to either company or their redemption policies for gift certificates. Further, because gift certificates have actual value of the stated amount at each organization, they should be treated as cash. Lost, damaged, outdated or cards otherwise deemed unusable will not be replaced by Miller Piano Specialists.
All trademarks, logos and brand names used during this promotion are the property of their respective owners. All company, product and service names used are for identification purposes only. Use of any company's names, trademarks and brands does not imply endorsement.
Privacy Policy:
Miller Piano Specialists may collect certain customer information during the Miller Piano Specialists Easter Sale and Egg Hunt. That information will be used internally only and is never sold or otherwise distributed without customer approval. Miller Piano Specialists has policies in place and certain technologies, where necessary, to safeguard that information.
In situations where a delivery or tuning or other services are required, necessary information for the work will be shared with third party vendors in order to complete the work. Each vendor maintains their own privacy policy. By participating in the Miller Piano Specialists Easter Sale and Egg Hunt you acknowledge and approve of this privacy policy.