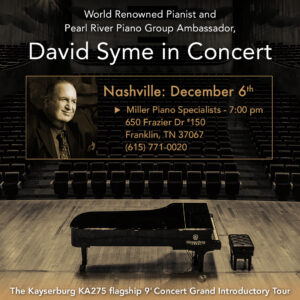 Back by popular demand, pianist, David Syme at Miller Piano Specialists!
David Syme has dazzled audiences worldwide, performing at Carnegie Hall, Lincoln Center, Kennedy Center, London's Wigmore Hall, and at major venues in 17 European countries, as well as Canada and Mexico. In addition, he has recorded two dozen CDs with top orchestras, including the Royal Philharmonic, Czech National Symphony, and the Mexico City Symphony.
David is a Pearl River Piano Group Brand Ambassador and Ritmüller Classical Artist in Residence at Ireland's University College Cork.
Please call or text 615-771-0020 to RSVP as seating is limited. This will be a live event you may watch on our Facebook page at 7pm cst on Tuesday, December 6, 2022. Additional parking in the back of our showroom for your convenience.