Rent a Yamaha Piano Starting at $59 a Month!
A quality piano is one of the most important stepping stones on your child's road to musical mastery.
And Miller Piano has made it easier than ever to have one in your home, for however long you need, without the commitment of purchasing.
At Miller Piano, you can rent a Yamaha b Series or NU1 Hybrid piano, starting at just $59 a month.
When you rent one of these fine instruments, you can ensure that your child is learning to play on a top-quality piano.
But wait, there's more!
With Miller Piano, we believe in making the transition from renting to purchasing easy, and most of all, worth it.
If you decide to purchase your rental, the first six months of rental payments will apply to your purchase.
Make an investment in your child's future—rent a Yamaha piano today.
---
Yamaha b Series – b1, b2, b3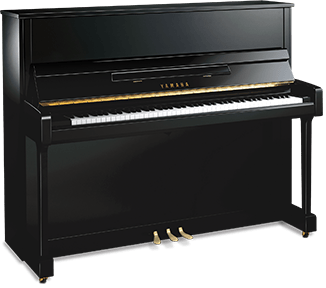 Experience the craftsmanship of Yamaha in the beautiful, streamlined package of the b Series' upright cabinet.
The b Series exemplifies the extraordinary beauty, craftsmanship and renowned design principles of the Yamaha brand.
Yet it's more affordable than many models on the market.
The b Series is composed of many outstanding pianos:
The b1: This entry-level piano features high-grade hammers and a super responsive keyboard. It has a cast-iron frame for optimal sturdiness. The slim design makes it ideal for homes with limited space.
The b2: This b Series model combines superior sound quality and construction, while still maintaining the slim, space-friendly design.
The b3: This piano is larger than the 1 and 2 models, but features a sound sampling from the renowned Yamaha CFIIIS grand. It also features the Silent functionality, as well as recording and playback capabilities.
From the entry-level b1 to the larger b3, Yamaha's b Series pianos are the perfect piano to learn on, practice on and develop your piano-playing prowess.
Get More for Your Money at Miller Piano
When your rent your b Series with Miller Piano, you can decide to purchase at any time–and your first six months of rental payments will be applied to the price of your purchase!
We will also grant you the full value of your b Series piano if you decide to trade up to a higher-end model within 10 years–that's the b Series Legacy Promise.
Yamaha NU1 Hybrid Piano
This upright piano features a design inspired by the popular Yamaha U1 acoustic piano.
It features a premium sound sampled from the world-famous CFX concert grand, with the physical and auditory expressions of a traditional acoustic piano.
But the features of the NU1 don't stop with the gorgeous design, impeccable sound or authentic playing experience.
There are also tons of technological features and capabilities that make recording and practicing easier and more enjoyable than ever.
Learn More about the Yamaha NU1.
Rental pricing and units may vary.
Click here for additional piano and keyboard rental options.