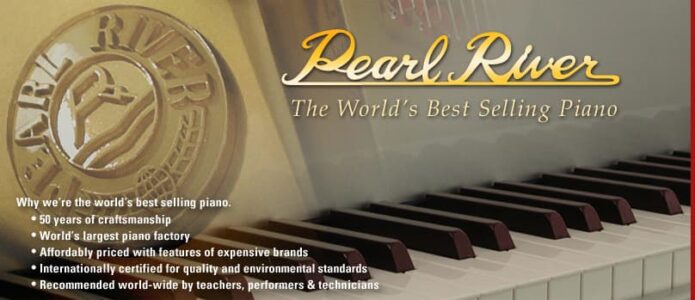 The Pearl River Piano factory in Guangzhou China is the largest Piano Factory in the world. Pearl River Pianos are exported to over 70 countries, and they are the fastest growing piano company in the world. We have compiled some fun and interesting facts about the worlds largest piano manufacturer Pearl River.
China's largest piano manufacturer and the largest piano factory in the world!
At full steam, Pearl Rivers Piano Factory can produce 100,000 pianos per year.
In 1995 Pearl River signed a Joint Venture with Yamaha Pianos in order to improve quality and management concepts.
In 1998 Pearl River Piano was awarded the International Standards Association ISO 9001 Certification, which is awarded after intense audits of quality, production methods and quality control. Pearl River was the first ever Piano Company to receive this type of award.
International concert pianist Oksana Kolesnikova is a spokesperson for the Pearl River Butterfly Piano.
Pearl River is also one of the worlds largest guitar and violin manufacturers.
Pearl River manufactures pianos for the popular Steinway Brand. Steinway & Sons Essex Model Piano is solely manufactured by Pearl River.
Pearl River Piano Slideshow:
[slideshow_deploy id='3619′]
Pearl River Pianos are available at Miller Piano Specialists. Come and see why Yamaha and Steinway choose to have a working relationship with this remarkable manufacturer.